PORTRAIT ARTIST
Oil Paintings from Photos or Live Sittings
WHY COMMISSION A PORTRAIT PAINTING BY A PROFESSIONAL PORTRAIT PAINTER?
Oil portraits have long been the medium for immortalising yourself or a loved one. They evoke a long-lasting, timeless quality which cannot be matched by any other means. A beautiful oil portrait captures a chapter in someone's life rather than a fleeting moment.
There are countless reasons to commission a portrait, such as parents seeking to preserve a particular time in a child's life, a partner honouring a loved one's achievements, a wedding, anniversary, or birthday, to commemorate milestones in careers and celebrate success… The list goes on. Having a portrait painted to mark these occasions makes it a true celebration to be treasured for a lifetime.
A portrait speaks volumes about a person's accomplishments, passions, and who they indeed are. They capture much more than the surface value, but instead the integral being of an individual and what makes them so unique. This is something which will be saved and cherished by future generations.
If you wish to capture something lasting, invest in a beautifully painted portrait by Hazel Morgan, and you will have peace of mind that it will look as spectacular as it does today in hundreds of years' time.
By choosing to invest in an oil portrait, you will have peace of mind that it will look as spectacular as it does today in hundreds of years' time and remain a legacy for family generations to come.
Both families and corporations have used commissioned portraiture to mark momentous occasions, celebrate success and achievements, and show genuine appreciation of an individual.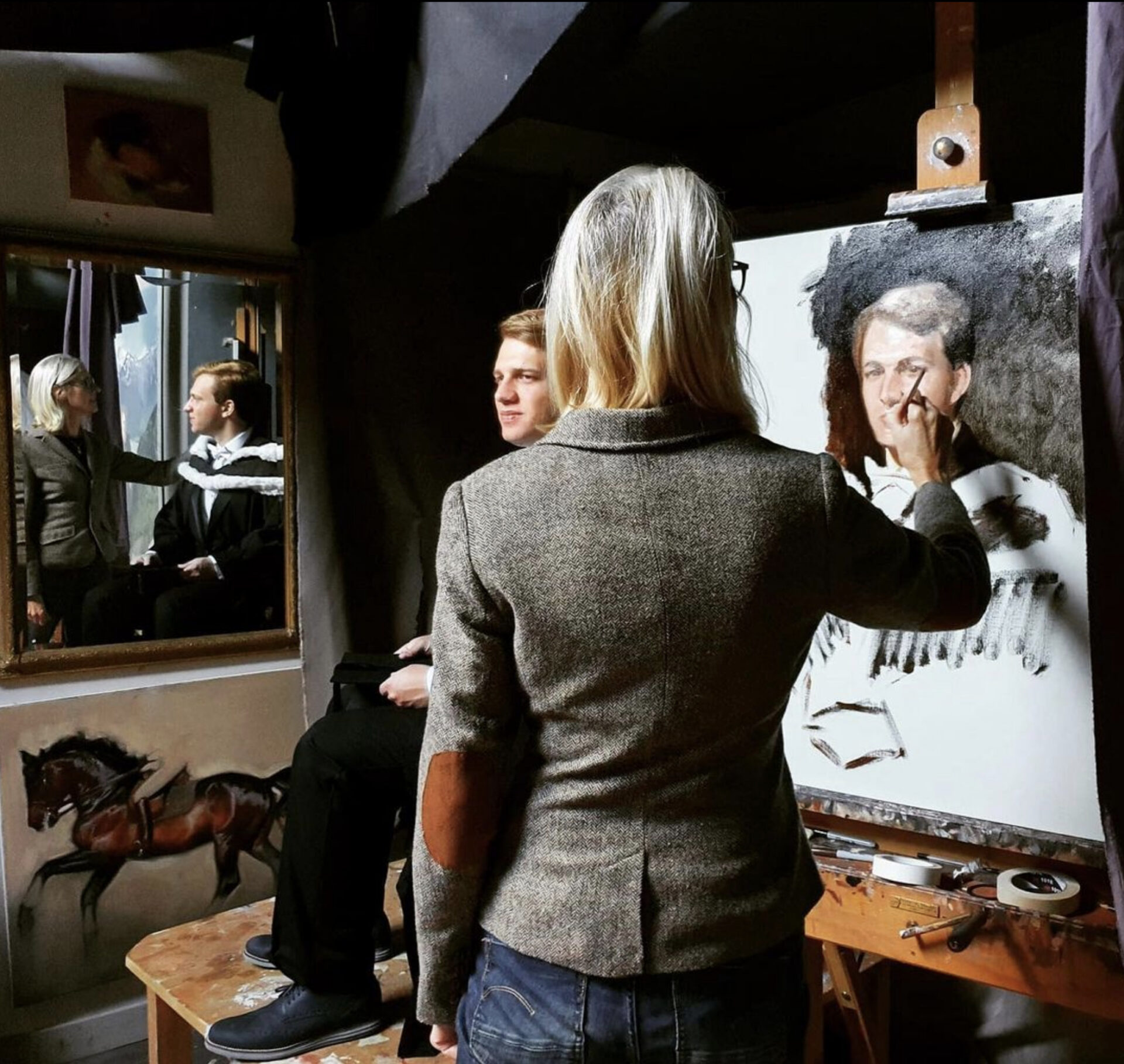 Hazel Morgan in her portrait studio.
Completed portrait painting by Hazel Morgan
Hazel began her formal training in 1994 when she travelled to the famous Charles H. Cecil Studio in Florence. Having already completed numerous commissions in the worlds of equestrian and figurative portraiture, her talent was instantly recognised, and she became a tutor to the intake of students. This enriching experience and period of development taught her invaluable skills and lead her on the path to follow in the footsteps of the great Masters who inspire her work, such as Sargent, Velasquez, Munnings, Constable and Van Dyke.
Hazel has further honed these practices and has become an artist who can capture what she sees and reach into the soul of her subject, painting each horse as if it were her own and each person as if she had known them for years.
Her work captures precious moments in time, creating a legacy for future generations. As Hazel says, "I can capture moments that allow people to relive magic memories for years to come".
Hazel excels in painting oil portraits from photographs, including posthumous portraits, and can capture their personality and essence as if she has known them for a lifetime.
If you're thinking about commissioning a Portrait Painter, contact Hazel today! 
Most Popular Occasions to Commission a Portrait Painter:
Many portraits are commissioned out of admiration for an individual with no particular date or event in mind. They are also created as a one-of-a-kind gift which is both thoughtful and memorable.
Here are the Top 10 Occasions when our clients have commissioned portrait painter, Hazel Morgan :
1. Celebration of Life/ Posthumous Portraits
2. Birthday Portraits
3. Retirement Portraits
4. Anniversary Portraits
5. Promotion Portraits
6. Career Success Portraits
7. Childhood Portraits
8. Wedding Portraits
9. New Home Portraits
10. Holiday Portraits
ABOUT PORTRAIT PAINTER, HAZEL MORGAN
Hazel Morgan is a portrait artist and painter creating beautiful oil portraits for customers worldwide.
Her US clients are mainly based in Texas, California, New York, Florida, Vermont, Connecticut, Virginia, Georgia, Pennsylvania, Arizona, Michigan, Minneapolis, South Carolina, Massachusetts, Ohio, Illinois and Kentucky.
Her UK clients are mainly based in London, Surrey, Cheshire, Buckinghamshire, Oxfordshire, Gloucestershire, Sussex, Hertfordshire, Hampshire, Kent and Wiltshire.
In Europe - Hazel has clients in Switzerland, France, Italy and Monaco.
She is perfect for anyone looking for custom and bespoke portraits made by an experienced professional artist. With her eye for detail and unique art style, Hazel's portraits are a piece of art that will last for years. If you are looking for something special, Hazel is the perfect choice to help you create something truly extraordinary with her portraits – art that will remain timeless! Whether you need a portrait of your family or yourself, Hazel has the skills to deliver beautiful portraits made from oil paint to meet any aesthetic needs.
Hazel Morgan is a multi-award-winning classical portrait artist who paints from photos or live sittings to create beautiful portraits that show the subject at their very best. With years of experience and endless passion for her art form, she creates bespoke portraits uniquely customized to each client's vision. Whether you're looking for a custom painting of your family or professionally painted artwork, Hazel has it all! As an artist and painter, Hazel's portraits stand out with the finest detail, color gradients and expert use of light. This is why people come to her again and again for her beautiful portraits!