Commission a portrait by Award Winning Artist, Hazel Morgan.
Click image to view galleries
Hazel Morgan is a classically trained and multi-skilled artist specialising in portraiture, equine and canine paintings. She has established herself as a truly world-class artist with an international clientele spanning the US, UK and Europe with notable sitters from the world of business, sport, military and film.
Hazel's ability as a portrait painter is greatly influenced by channeling the skills of the Master before her. She harks back to a period of art that celebrates beauty on all levels, and has an incredible talent for capturing likeness not only in appearance, but personality and energy too.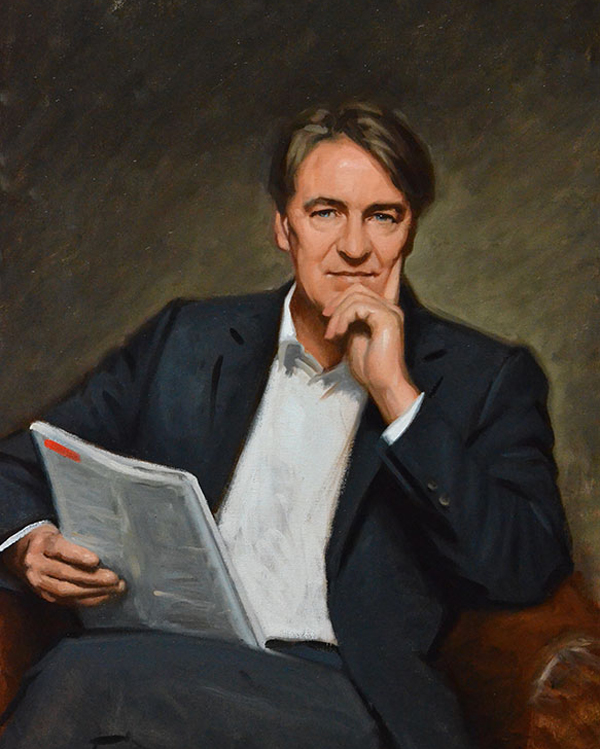 Custom paintings from photos …
"We wanted to honor a long time friend, who had passed away by having a surprise portrait painted for his friends to see and his family to keep. I found Hazel online, asked her to do the portrait, and sent her a few pictures of our friend. We could not be happier with the finished product.
The likeness is stunning, it has caused goose bumps and brought some tears to the eyes of everyone who has seen it. I was so impressed with her work that I commissioned a second, surprise, portrait of my lady and me, the result was equally impressive.
Hazel is an extraordinary artist and extremely easy to work with."
– J. Kellett, CA.
"Even with all the constraints of the pandemic I found the whole process easy and I felt well supported throughout. The artist kept me updated with progress and the results speak for themselves. I am delighted with the portrait and can't wait to receive it."
– A. Currie, UK
"I was very satisfied with the process and result. There were no problems with the communication, payment, or delivery of the final product.
The service provided was personal and attentive. The representative made everything very easy assisting with all aspects from artist selection to front door delivery. I contacted in the Christmas Holiday run up, and although it is a very busy time for this type of gift, they came through on short notice with a beautiful portrait that everyone loved. "
– J. Sutch, PA
"Delighted with the portrait of my wife and myself. The artist has captured us perfectly. The service from the whole team was excellent."
– A. Davies, UK
Why Commission with Hazel Morgan?
Working with Hazel Morgan to create your portrait will be a personal and memorable experience. Both her and her dedicated team are on hand to ensure a seamless and enjoyable journey from start to finish.
Hazel has been a professional artist for nearly 40 years working from photographs and from life, meaning her experience and skill will guarantee that you recieve a Masterpiece.
Get in touch with us now to discuss your requirements. and recieve a free quote
Why should you commission an Oil Painting?
Oil paints have long been the medium of choice for immortalising yourself or a loved one. They evoke a long-lasting, timeless quality which cannot be matched by any other means. By choosing to invest in an oil portrait, you will have peace of mind that it will look as spectacular as it does today in hundreds of years time and remain a legacy for generations to come.
An International Clientele
– Worldwide Shipping available
– Free Consultations by Phone, email, text or Zoom
– Regular updates on the portrait with photos and videos long the way